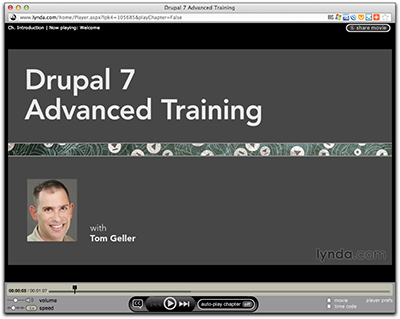 Screenshot of intro to Drupal 7 Advanced Training
It's been a busy few months since ending my time at Acquia last October. I've returned to freelancing, bettered by having worked with some of the best people in the business: It was a pleasure to see them at DrupalCon Denver, and I've been enjoying our continued (albeit changed) good relationship.
One result of leaving is that it gave me time to create a long-overdue course for lynda.com: Drupal 7 Advanced Training. My other courses aim to teach specific skills, such as creating a store with Drupal and using Drupal to display complex data. Drupal 7 Advanced Training is a general tutorial for those who already have basic Drupal skills.
It's intended as a follow-up to the course that's proven by far my most popular: Drupal 7 Essential Training. As usual, the new course gives away a few videos, while a free 7-day pass provides full access.
Here's the intro video:
Enjoy!