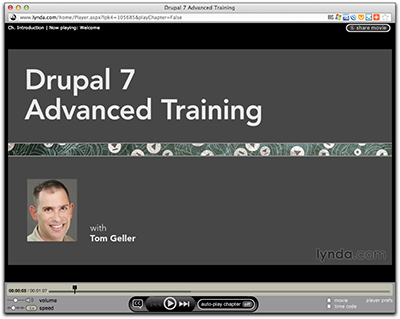 Screenshot of intro to Drupal 7 Advanced Training
(Retired by LinkedIn Learning — no longer available.) This course teaches web site designers how to take their sites to the next level with a few advanced techniques and the free and open-source Drupal software. Author Tom Geller shows how to configure the most popular add-on modules; use *nix commands and an FTP program to manage a Drupal site on a web server; change its visual appearance using the latest graphical tools; automate and speed through common tasks with Drush; integrate with social media sites; and see how "supermodules" like Panels, Context, Rules, and Features open up new worlds of code-free development.
Drupal 7 Advanced Training was designed as a follow-up to Drupal 7 Essential Training and it also dovetails nicely with our other Drupal courses, such as Drupal 7 Reporting and Visualizing Data and Create Your First Online Store with Drupal Commerce.
Topics include:
Moving a site from the development environment to production
Hosting a Drupal site
Moving databases with phpMyAdmin and Unix commands
Making site administration more efficient with Drush
Backing up site data
Moderating comments
Migrating from previous versions of Drupal
Working with themes
Creating variable layouts
Enabling social features
Creating an online store with Drupal Commerce