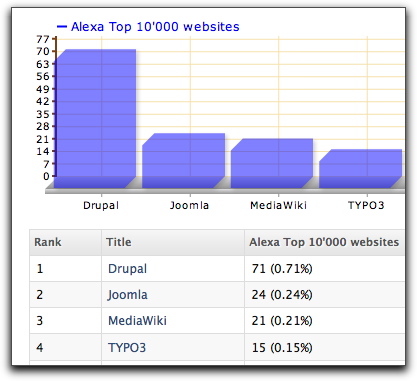 Here's a statistic I haven't seen bandied about much. Drupal runs three times as many of the Alexa 10,000 top sites as the next CMS, according to backendbattles.com.
This figure was extracted using Wappalyzer. It's not perfect: The Onion doesn't show up as a Drupal site, for example, probably because it runs an old or heavily hacked version.
It's nice to have this statistic at hand when Drupal supporters feel disheartened by popularity comparisons to Joomla. There are many ways to be successful; capturing the attention of the world's biggest sites is a pretty good one.
Having said that: WordPress is found on nearly three times as many big sites as Drupal. (Backendbattles.com categorizes it as "blog software" rather than a CMS, so it doesn't show up in the comparison.)