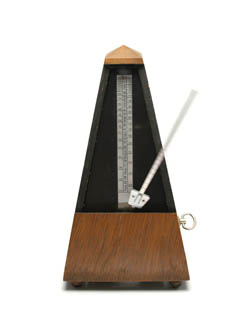 The same day that Angie Byron (webchick) announced the release of Drupal 7 Beta, my Drupal 7 New Features course comes out. Syncronicity! It's 2-1/2 hours of videos that (I hope) covers the bulk of changes that Drupal administrators will face. (For a larf, enjoy my goofy face in the intro video.)
As always, working with lynda.com was a great experience, and I look forward to going back later this year to record two more courses — details of which I'll post when they're released.
Timing means a lot. I wrote about Drupal 7's release date almost a year ago, when I was deep in the middle of writing Drupal 7: Visual QuickStart Guide
for Peachpit Press. We'd planned for Drupal 7's release in early-to-mid 2010, but we all now know it was not to be. Peachpit and I put the book on ice for a few months, holding weekly phone meetings to discuss the anticipated release date. We started up again a few weeks ago, and now project a December release. Here's to hoping.
It's a tough gamble. On one hand, an early release could be inaccurate; on the other, a late one costs sales. It's a more complicated matter than most people realize, especially in a traditional-publishing context. That's true for both Peachpit and lynda.com. Although the latter is a video publisher, its model is a lot like that of print publishing: A lot of production goes into every video, so corrections aren't as easy as you'd think. On the Peachpit side, I'm told that the book has gotten substantial pre-orders. That's great news for both me and the Drupal community, but it brings extra pressure: If we were to delay the book's release, we could lose those sales.
Some publishers went for it. On 21 September John Forsythe generously posted a list of Drupal 7 books, of which two were already shipping. (Drupal.org user juan_g helpfully summarized the books' release dates in a comment.) One of them unleashed the anger of Earl Miles (merlinofchaos), one of Drupal's most valuable contributors by including information about his unreleased modules; to their credit, the publisher joined the discussion on drupal.org to discuss their decision. Webchick, who's a published author
in addition to being Drupal 7's co-maintainer, jumped in to explain the quandary publishers find themselves in when a release date slips.
But these are problems that come with Drupal's growing popularity, and are therefore happy ones for us as a community to face. (Did any projects depend on when Drupal 4's release date? Probably not.) This is a challenge I hope we meet better with Drupal 8. My own suggestion: Define regular releases with an absolute schedule, much like Ubuntu does. That will not only help the commercial organizations who depend on a stable release date; it will, I think, remove some pressure of uncertainty from Drupal developers themselves.
What do you think?