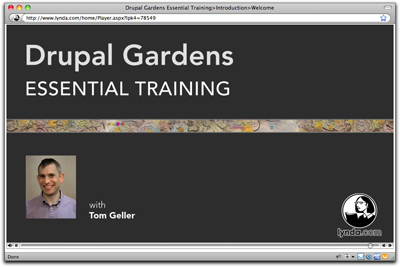 In the hubbub of Drupal 7's release, you might have missed this announcement from lynda.com that they released Drupal Gardens Essential Training, a 5-1/2 hour video course, on the same day. Timing!
Acquia's Drupal Gardens provides Drupal-based sites on the WordPress.com model: You log onto Drupal Gardens (currently in beta), type in a site name, select features, click "Create site", and you're up and running with an example.drupalgardens.com URL. From there, administration is like ordinary Drupal — with some notable differences that make it more user-friendly.
I wrote about the need for a hosted Drupal solution over two years ago. Jeff Whatcott (who at the time was Acquia's Vice President of Marketing) intimated that "This discussion mirrors very closely a lot of internal discussions I've been in around the office at Acquia lately". Others chimed in with suggestions for what such a service should look like, the top two being: (1) sites shouldn't look "generic", and (2) sites for vertical or "niche" markets should be easy to set up. I said that such a service should have features that "make hosted Drupal more user-friendly, such as one-click themes and modules, automated backups, integrated marketing services, etc.".
Those features are all (arguably) found in Drupal Gardens. The Theme Builder, and a good selection of preconfigured themes, prevents sites from seeming generic; the site-creation procedure provides one-click setup for common use cases; and while backups aren't automated, they're incredibly easy. "Integrated marketing" is limited to social networks and Drupal's built-in SEO features, but that's something.
Mr. Whatcott also said at the time that "…if we can crack this code and define a concept for something simple but insanely great, we can bring a horde of new people to Drupal". He may be right, because someone who starts on Drupal Gardens will be well-trained to administer a site built with core Drupal. For that reason alone, Drupal's supporters should hope for its success (along with that of its competitors, SubHub and Buzzr). In any case, I recommend that everyone take a few minutes to set up a Drupal Gardens site: Acquia has done a really good job at commoditizing Drupal sites. Congratulations all around.